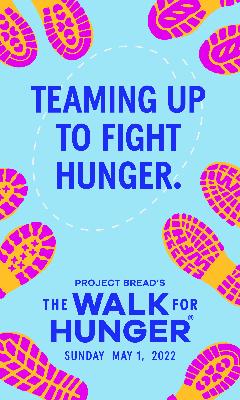 United Parish in Brookline
Get Food Relief to Kids and Families Facing Hunger.
We've joined Project Bread's The Walk for Hunger to help get food relief to kids and families across Massachusetts.
The pandemic caused food insecurity to skyrocket. But even as we begin to look toward recovery, too many families are still living with the daily worry of being able to feed themselves and their children.
No one should go without a meal, yet Project Bread estimates that

1 in 5 households with children across the Commonwealth are facing hunger right now.
With so many struggling during this challenging time, no one should worry about where their next meal will come from or if they'll able to feed their children.
Will you join my effort to get food relief to hungry kids and families in Massachusetts?
We created this fundraising team to provide much needed support to our neighbors facing food insecurity and hunger right now, and we are asking you to join us in our cause.
Click on the DONATE NOW button above and let's ensure kids and families have food on the table during this crisis and beyond!
View More

John Bowman
$75

Carolyn Melbye
$25

Team Honor Roll
In loving memory of Marcia M Heist
Remembering KENNETH W CHIN
The United Parish in Brookline
Recent Donors
The United Parish in Brookline
Steve Bowman
Beverly Bowman
Mark & Lietza Molloy
Cindy Vreeland