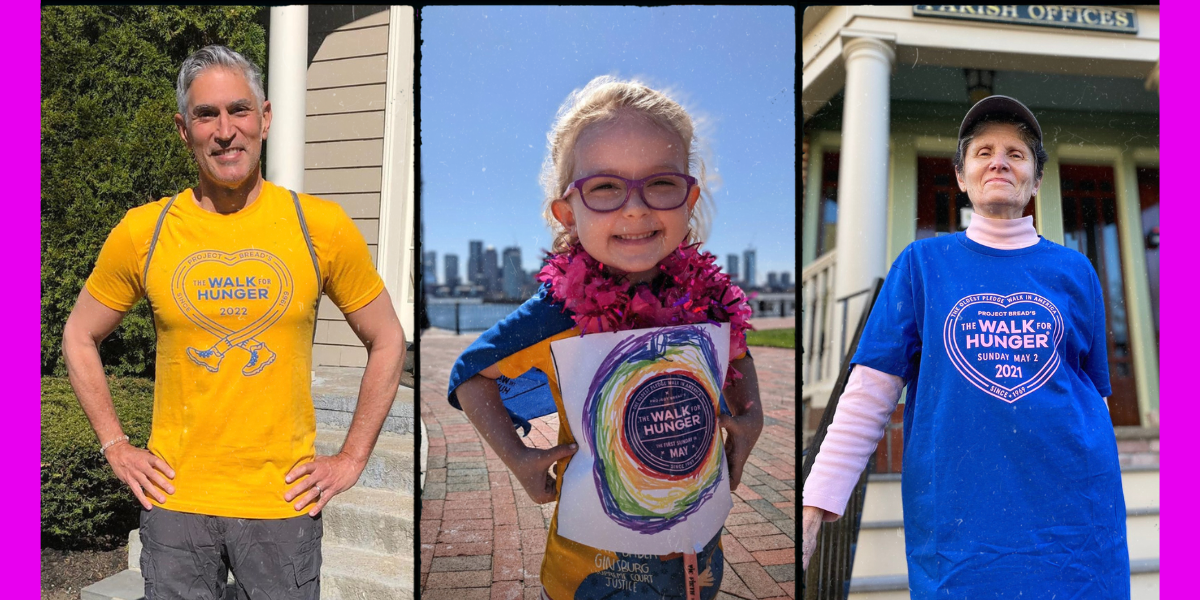 Your Fundraising Gets Food Relief to People & Families Across Massachusetts.




The Walk for Hunger

is Project Bread's flagship community event and annual fundraiser. Funds raised through The Walk for Hunger connect people and communities in Massachusetts to reliable sources of food, so that no one goes hungry. And advocate for policies that make food more accessible for everyone.



Explore Project Bread's blog for the latest impact and updates
You are feeding kids
You are raising money to ensure children in Massachusetts have enough food all year long through school and summer meal programs, during the pandemic and beyond.
As a result of a state budget extension that Project Bread advocated for, allowing all students to receive free school meals through this academic year, meal participation has increased by over 80,000 students in schools previously not serving free school meals in 2019

.
In July 2022,

children ate 2,323,637 free summer meals at nearly 1,500 sponsored sites across Massachusetts.

Anyone under 18 can visit one of these meal sites at partner schools, churches, libraries, and health and human service organizations statewide and receive a meal at no charge.
You are helping to make sure we can continue to feed as many kids as possible and improve health outcomes for a generation!
You are providing compassionate help for people facing hunger
You are raising money to ensure anyone facing hunger or needing food assistance in Massachusetts can receive compassionate and comprehensive help locating food resources by calling Project Bread's toll-free FoodSource Hotline.
In 2022 alone, Project Bread counselors responded to more than 20,500 calls from food insecure families and individuals from across the Commonwealth.

Counselors can assist callers in more than 180 languages. In 2022, we assisted 4,750 callers in non-English languages, making up over 20% of our total calls.

The Hotline serves as the resource recommended by the Department for Transitional Assistance and the Massachusetts Department of Elementary and Secondary Education for residents seeking help with food access in the wake of COVID-19.
You are helping make sure as many people as possible can continue to get assistance finding food resources amidst inflation, policy changes and more!
You Are Solving Hunger Through Advocacy
You are raising money to ensure advocacy for policies that provide sustainable, scalable solutions to permanently move the needle on ending hunger.
Project Bread works with legislators and other elected officials as well as in partnership with government agencies.

CEO Erin McAleer was invited to attend and advise on the agenda for the 2022 White House Conference on Hunger, Nutrition and Health, and she joined the Healey-Driscoll Administration transition team to advocate for healthy children in schools.

Project Bread, in partnership with the Department of Transitional Assistance, is working to increase access to and participation in federal nutrition programs, including SNAP and school meals.

Through your support, we launched The Feed Kids Campaign and are leading the coalition calling for universal school meals (free School Meals for All) to be made permanent in Massachusetts.
You are helping make sure new policies are put in place so that everyone in Massachusetts has enough to eat!
Thank you for making a difference!