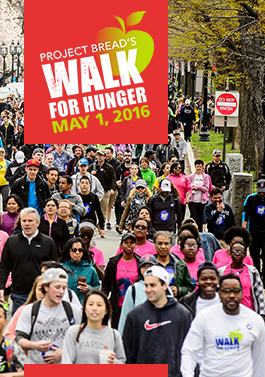 I'm proud to be joining Project Bread on Sunday, May 1st for the 48th annual Walk for Hunger. Please help me reach my fundraising goal by donating to my Walk page! In my previous 5 times having done the walk for hunger, I have raised more than $5,000 thanks to your generosity. I am returning to the Walk after a long absence and hope you will support me and more important, this terrific cause.
Every dollar helps support the more than 255,000 food-insecure households in Massachusetts that can't always predict where their next meal is coming from.

For the past 48 years, tens of thousands of people have met at the Boston Common to show their unified commitment to ending hunger in Massachusetts and walk together— making a powerful statement about our shared commitment to helping people in need.

HOW CAN YOU HELP?
Each walker reaches out to their own community for support, raising money that makes it possible to develop, fund, and facilitate much-needed programs—programs that interrupt the cycle of food insecurity in our communities, and programs that provide hope for:
The parents who skip dinner at night so their kids can eat…
The families who go to the food pantry in the neighboring town to not be recognized…
The kids who only eat one meal a day: the lunch they get at school…
The elderly who can afford food or heart medication—but not both…

Please support MY WALK and donate today!

The Walk for Hunger was started as a grassroots movement of the people, and you can help. Please donate to support my efforts, or join me by walking and raising money yourself: either way you are making difference in the lives of people across Massachusetts.

• Donate to my Walk now by clicking the "Donate Now" button
• Register to walk, run, or volunteer yourself at www.projectbread.org/register

View More