Those You Help

Each day our phones on our FoodSource Hotline tell us that people are hurting. We hear that what we do is critically important — whether it's referring callers to an emergency food program, helping them apply for SNAP (formerly food stamps), or telling them about free and reduced-price school meals or summer food programs.
The Status Report on Hunger in Massachusetts, 2012 revealed that the food insecurity rate in Massachusetts has grown from 8.3 percent before the recession to a high of 11.9 percent which is over over 750,000 people — the highest rate recorded in the Commonwealth since this data was first collected in 1995.
Through your support of the Walk for Hunger each year, you are making a real difference in the lives our hungry neighbors. Money raised through the Walk helps fund over 430 agencies in 125 communities throughout the state, including food banks, soup kitchens, meals programs, and food pantries.
The people who rely on these programs to get through the week or month come from a wide variety of backgrounds and each have their own story. Here is just one story from the nearly 49,000 we heard this year.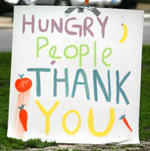 J.C.'s Story

J.C. is a single mother of two who lost her job as a housekeeper when her clients found themselves suddenly out of work. J.C. never made a lot of money, but now she barely scrapes by. She turned to her religious community for help, and it provided her with some warm coats.
One day, J.C.'s school-age daughter told her that she needed $10 for an upcoming field trip and J.C. became upset because she didn't have the money for food, much less for a field trip.
Needing to find more ways to help her children, J.C. called Project Bread's FoodSource Hotline. The counselors provided J.C. with a referral to an emergency food program to give her food for a week. They also screened her for food stamp eligibility, suggested she apply for WIC for her youngest child, and enrolled her older daughter in the free and reduced-price school meals program, which provides the child with a free breakfast and lunch. Then they told her about a free lunch program, available during the summer, that offers kids a healthy lunch at a large, local park.
"They gave me hope," said J.C.
Each piece of the puzzle is not enough in and of itself but, taken together, these interventions are helping J.C. and her girls get through tough times.