Volunteer for the 2013 Walk for Hunger!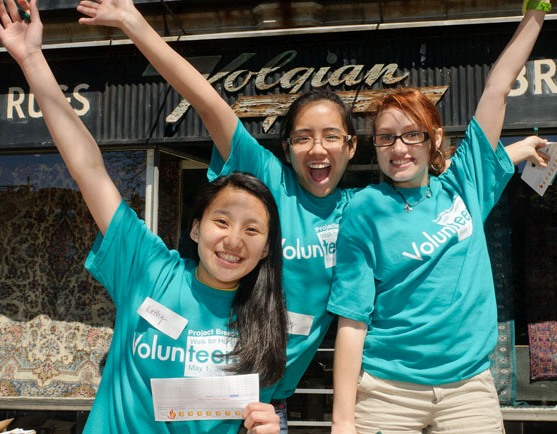 Each year, more than 2,000 Volunteers work together to make The Walk for Hunger fun, safe, and successful. Join us for the 2013 Walk for Hunger on Sunday, May 5th, and be a part of this historic Massachusetts event!

Volunteer in the morning, the afternoon, or all day, it's up to you. Whether you are beginning or continuing your commitment to helping hungry people, we have something for everyone!
Registering as a Volunteer for this year's Walk online is easy! Check out the job descriptions here so you can decide which is best for you!
Looking for the Community Service Form?
Download it here.
Be a Stationary Marshal Walk Day Coordinator

The Stationary Marshal Walk Day Coordinator (SM-WDC) holds a key position at The Walk for Hunger. This person is responsible for the safety of Walkers throughout their assigned section of the 20 mile Walk Route. The SM-WDC will manage a large group of Volunteers and ensure that they are placed strategically throughout the Walk Route and are both directing and encouraging Walkers. Learn more and how to apply.
Become a Heart & Sole Volunteer
Volunteers are welcome to raise money and get credit for Walking all 20 miles! Raise $500 or more and automatically become part of the Heart & Sole Circle. When you become a Heart & Sole Volunteer, you will receive a special T-shirt, be invited to special events throughout the year, and be listed in our annual report.
Volunteer Matching Gifts
Some companies match volunteer hours with monetary contributions. Check if your company will sponsor your volunteer hours on our Matching Gifts Page.
Organize a Team
We have lots of opportunities for groups of classmates, coworkers, and friends to help on Walk Day. Bring a team of two, twenty, or more! Check back in early February to register as a Volunteer Team Leader and set up a Team Webpage. In the meantime, start emailing your friends and family to join your team.
Your Volunteer Contacts
Every year as we prepare for The Walk for Hunger, Project Bread hires a dynamic group of individuals to work in our local communities to educate the public about hunger in Massachusetts and to mobilize Volunteers. Our Volunteer team works hard at placing all of our supporters in the right positions to ensure a fun and safe Walk. Find out more about your contact here!
Looking for on-going Volunteer opportunities? Click here.