The Walk for Hunger Route

The 20-mile Walk for Hunger begins on the Boston Common, and winds through Boston, Brookline, Newton, Watertown, and Cambridge before returning to the Boston Common. There is a rolling start on May 5th at the Boston Common between 7:00 A.M. and 9:00 A.M. You can start there, or at any point along the route and register at any checkpoint. Just turn in your pledges at the Boston Common when you finish!
If you want to return early, there are free buses available from each checkpoint to shuttle you back to the Boston Common finish line.
Route and Snack Stop location
This will be our third year at our new and improved Snack Stop! The Walk is routed through Watertown with a new Snack Stop at Arsenal Park, a beautiful and historic tree-lined oasis. This picturesque park is perfect for a spring-time picnic or just to rest on the grass before finishing the Walk!
Walkers will enjoy an assortment of sandwiches provided by Freihofer's, along with a variety of snacks and juice. Stay for five minutes or 20 before heading back out on the route or jumping on a shuttle bus back to the Boston Common. Check out the new Walk route!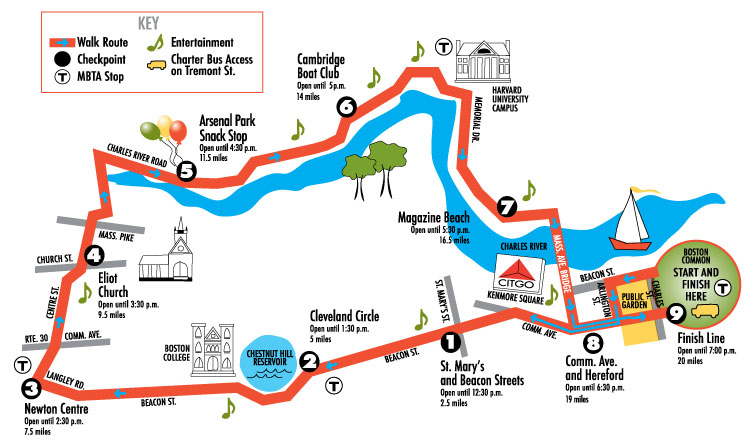 Click on the map to enlarge image.