2013 Walk for Hunger Campaign Team

Every year as we prepare for The Walk for Hunger, Project Bread hires a dynamic group of individuals to work in our local communities to educate the public about hunger in Massachusetts and to mobilize Walkers. Together they are responsible for working with organizations to post Walk publicity materials and form teams. They bring fresh enthusiasm and new talent to Project Bread every year, and we are proud to have them on our team.

Robyn Gibson Asenso has a background in education, community organizing, and event planning. Robyn was the Director of Diversity and Assistant Director of Admissions for Commonwealth School. She was a Posse Scholar and Hamilton College '10 alum. She studied in both Tanzania and Ghana while in college. Robyn was born and raised in Mattapan but currently lives in Hyde Park with her husband. She enjoys a good movie, traveling, and shopping.

Ali Dellea moved from to Boston by way of New Hampshire and other states where she worked on political campaigns. She is in her last semester of her Masters of Public Administration at UNH and will be joining Teach for America in the fall in the Greater Boston area. She is looking forward to getting to know Boston better and stay in one place for a little while as it is the 8th state she's lived in so far!

Nicolette Greene graduated from the University of Southern Maine with a degree in English. She helped create and put on the first ever "Senior Week" at USM, and is pleased it has become a continued tradition. Upon graduating Nicolette worked as a substitute teacher in her old elementary school before moving to Brighton. Nicolette has also traveled to England, Scotland, France, the Canary Islands, and even worked as WWOOFer on organic farms in Ireland.

Josh Hulseberg joins Project Bread as a Campaign Associate after working in the entertainment and film industry in Los Angeles for the past three years. Originally from Western Massachusetts and an '09 Cornell alum, Josh enjoys his time as a volunteer high school and middle school football coach.

Hannah Breig is from a small town in Minnesota and went to the University of New Hampshire for Zoology. Hannah recently spent time nursing sick wildlife back to health and teaching Ohio students about the wonders of nature; she is excited to gain experience working with Project Bread!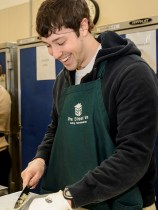 Jarred Gould joins Project Bread as a Campaign Associate. In May, he graduated from Suffolk University, where he studied journalism and worked in the Office of Public Affairs. Most recently, Jarred worked part-time as a longshoreman in Charlestown and South Boston.