Appreciation and Grant Award Ceremony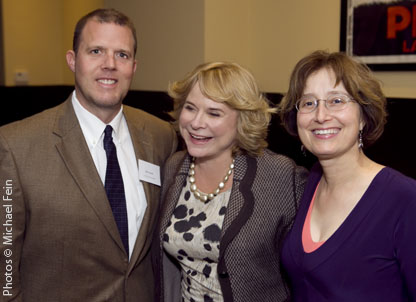 Chef Kirk Conrad, Project Bread's Executive Director Ellen Parker, and Grant Ceremony Honoree, Founder of Massachusetts Farm to School Project, Kelly Erwin at the 2010 Project Bread Appreciation and Grant Award Ceremony.

Project Bread awarded millions of dollars in grants to nearly 400 emergency food programs across Massachusetts at the Appreciation and Grant Award Ceremony on September 23, 2010. The money awarded was raised by participants and through private donations to the 2010 Walk for Hunger.
Project Bread-funded agencies reported serving nearly 58 million meals in 2009, the highest number of meals ever recorded. The demand shows no sign of abating. With foreclosures and unemployment still high, many people are finding themselves struggling to put food on the table for the first time. Project Bread will present the full story about the prevalence and effects of hunger in Massachusetts in its 2010 Status Report.
Ellen Parker, the executive director of Project Bread, spoke of the tremendous effort to raise the money to fund the emergency food programs: "Approximately 100,000 people are behind the money raised through the Walk for Hunger," Parker said. "We applaud the corporate and individual sponsors, the 50,000 donors, the 2,000 volunteers, and the 40,000 walkers all of whom did more this year to help these Massachusetts programs."