Chefs in Schools Initiative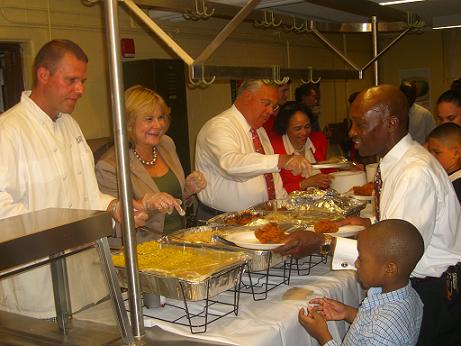 Background
Project Bread's Chefs in School Program recognizes that because low-income children rely on school meals for over 50 percent of their daily nutrients and calories — it is imperative that these meals be of the highest nutritional quality. Since 2006, Project Bread's chefs have trained kitchen staffs at over 15 schools to prepare healthy, cost-effective meals that kids like to eat. This program has reached over 11,500 students.
Evaluation
In 2009, Harvard School of Public Health evaluated the Chefs in Schools Program through a plate waste study that compared the consumption of nutritious food at two Chefs Schools and two control schools. The study found that students at the Chefs schools ate over three times as many vegetables and over 50 percent more whole grains. Students also drank similar amounts of milk when only 1% or skim white milk was available. Food waste was significantly reduced and participation in the school lunch program increased by 17 percent.
Current Initiatives
In 2011, Project Bread received a four-year, $1 million gift from the Arbella Insurance Group Charitable Foundation to expand the Chefs in Schools program by piloting and evaluating innovative methods in Boston, Chelsea, Lawrence, and Salem. The program will be evaluated by the Harvard School of Public Health. The findings from this work will serve as the basis for evidence-based recommendations and set the course for replication across the Commonwealth.
Over the next four years, Project Bread will:
Create a cookbook for schools that offer kid-approved, cost-effective recipes that meet the new USDA guidelines for school meals. This includes an emphasis on fresh produce, whole grains, lower sodium and minimal processing.
Transform the Lawrence Public Schools' school meals by improving menu offerings and training kitchen staff on basic cooking skills and how to prepare healthy recipes in their own kitchens. They will also be taught to "think like a chef" — learning how to market food to students, time food preparation and manage inventory.
Create a "train the trainer" model in Salem that will teach basic cooking skills to school food service staff throughout the district. These trained staff will be equipped to train other staff member with their new culinary skills.
Introduce behavioral economic changes in Chelsea, such as how food is presented, where it is placed on the serving line, and how it is priced to better understand how presentation impacts what children select and consume.
Develop a training curriculum for school kitchen staff in partnership with the Boston Public Schools.
Develop, in partnership with the Harvard School of Public Health, a measurement tool that will allow districts to measure the impact of the changes they make on the amount of healthy food students are consuming.
Go back to the Solution: Feed Children at School page.