A Brief History
The Early Years

1969 The first Walk for Hunger is organized by Patrick Hughes and a group of activists from the Paulist Center. Hughes once said, "Hunger doesn't just happen; it is caused." Wearing "foot power" buttons, approximately 2,000 people set out on a 29.6-mile trek through Quincy on Sunday, June 8, 1969, raising $26,000 to fund two hunger projects.
1970 Hughes brings the Greater Boston Walk for Hunger (later named The Walk for Hunger) into Boston and reduces it to 25 miles, raising $50,000. The Walk started in Brockton then went through Stoughton, Sharon, and Easton before ending at Brockton.
1974 Under the direction of Larry Kessler, the route is shortened to what it is today and Project Bread is established to conduct the Walk as well as to involve the public in hunger relief on a year-round basis.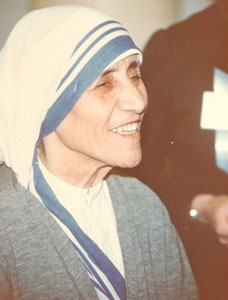 1975 Walkers are encouraged to gather pledges of at least 30 cents per mile; 3,000 Walkers raise $111,000; some donations go to international hunger relief organizations — Calcutta's Mother Teresa receives a grant.
1979 With nearly 10 percent of the state's citizens living below the poverty line, nearly 3,600 people participate in the Tenth Anniversary of The Walk for Hunger and help raise funds for 34 emergency food programs.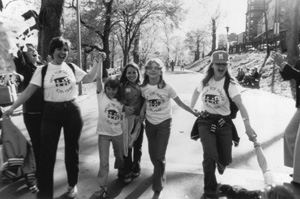 1980s

1982 The Hunger Hotline begins, joined by the Food Stamp Hotline, both operated by Project Bread.
1985 The first million-dollar Walk for Hunger occurs.
1987 Lieutenant Governor Evelyn Murphy, Senator John F. Kerry, and Boston Mayor Raymond L. Flynn attend the Walk along with 25,000 others. The Walk raises $1,750,000.
1988 The Walk raises a record $2,500,000.

1990s

1991 Project Bread, in partnership with the Massachusetts Department of Public Health and the Massachusetts Anti-Hunger Coalition, conducts the Childhood Community Hunger Identification Project (CCHIP), which is the groundbreaking first scientific study of hunger among low-income families in Massachusetts.
1992 Olympian Nancy Kerrigan promotes the Walk.
1993 Celtics Robert Parish, Reggie Lewis, Xavier McDaniel promote the Walk.
1994 The Child Nutrition Outreach Program begins, helping schoolchildren throughout the Commonwealth access healthy meals during the school year and throughout the summer.
1995 Project Bread merges the Hunger and Food Stamp hotlines into the FoodSource Hotline to provide comprehensive counseling on food resources.
1998 Project Bread conducts a statewide study with Representative Joseph Kennedy and physicians to understand the face of child hunger in five low-income communities throughout the state. The resulting report, "Hidden Hunger, Fragile Futures," sets the stage for Project Bread's focus on hunger prevention.
1999 Despite a strong economy, hunger continues to rise in Massachusetts, fueled by the high cost of living. Concerned citizens in the Bay State raise $3 million to support more than 350 emergency food programs.

2000s

2000 Project Bread sponsors a study conducted by researchers at Massachusetts General Hospital that proves that children who eat breakfast at school are more likely to do well in math, have fewer absences, and require fewer trips to the school nurse. This work leads to the bipartisan adoption of the universal breakfast program for low-income schools throughout the state.
2001 Project Bread develops the first online SNAP/food stamp eligibility application, now known as www.gettingsnap.org, which becomes a precursor for the state's Virtual Gateway.
2003 Project Bread pilots a collaboration between state agencies, called the Child Nutrition Outreach Program, that automatically enrolls children receiving SNAP/food stamp benefits into the free and reduced-price school meals program, reducing the need for multiple applications. This program is now statewide.
2003 Tracy Kidder publishes Mountains Beyond Mountains: Healing the World: The Quest of Dr. Paul Farmer, which references Project Bread's early contributions to Dr. Farmer's work.
2003 Project Bread introduces the Status Report on Hunger in Massachusetts, which provides an annual report card on how the state is progressing in the fight against hunger.
2003 Project Bread, in partnership with the Center for Survey Research at the University of Massachusetts, sponsors the first survey research in low-income census tracts around the state to study the actual incidence of hunger and food insecurity experienced there. This study finds that statewide hunger statistics mask the problem actually experienced in pockets of poverty in low-income cities and towns like Lawrence, Lowell, Holyoke, New Bedford, and parts of Boston, where 20 percent of all households lack adequate food.
2004 Calls to Project Bread's FoodSource Hotline reach 30,000 annually.
2004 Project Bread pilots the first locally grown foods initiative in Chicopee, designed to introduce fresh local produce to low-income children through the Summer Food Service Program.
2004 Project Bread, in partnership with the Harvard School of Public Health, develops the Better Breakfast Initiative to improve the nutritional content of school breakfast served at schools throughout the state.
2005 Project Bread formalizes the relationship with the Massachusetts Farm to School Project and begins providing transportation grants to local farmers who make their produce available to low-income children in schools and summer programs.
2005 With researchers from UMass Boston, Project Bread demonstrates that school breakfast improved MCAS scores when it was provided in schools where 60 to 80 percent of the children were eligible for free or reduced-price meals.
2006 With help from the Friedman School of Nutrition at Tufts University, Project Bread expands the school nutritional standards to include lunch (called the Better Lunch Initiative), sources vendors for healthy products, and creates toolkits for every school food service director in the state.
2006 In a first-of-its-kind collaboration with Mayor Thomas M. Menino, the Boston Public Schools, and the Boston Public Health Commission, Project Bread hires a culinary chef to conduct demonstration projects in three Boston public schools to promote healthy school food for low-income children. This program is known as the Chefs in Schools Initiative and is later expanded to eight schools.
2006 In partnership with the McCormack Graduate School of Policy Studies at UMass Boston, Project Bread begins an in-depth study of the needs of the Latino population; the resulting demonstration projects and outreach are ongoing and uniquely tailored to this community.
2007 Project Bread funds a demonstration project in community health centers affiliated with Partners HealthCare, called Food for Families. This project studied the incidence of hunger in low-income families coming in for routine pediatric visits at affiliated community health centers; findings reveal that 11 percent of the 11,000 families screened were at risk for hunger. These families are provided food vouchers and support in applying for SNAP/food stamp benefits.
2007 The Walk, with help from Boston Mayor Thomas M. Menino, Project Bread Board of Directors, corporate sponsors, and 43,000 Walkers and 2,000 Volunteers breaks records, raising $3.4 million with donations coming from every state in the union and 20 countries.
2008 The 40th Walk for Hunger sets new records, raising over $4 million to help feed hungry people in Massachusetts.
2008 In cooperation with 25 health centers, Project Bread starts the Elder Hunger Project, screening elder patients for hunger and giving them information, vouchers, and farmers' market coupons.

2008 Addressing the needs of frail, homebound seniors, Project Bread partners with elder home-care organizations in Boston and provides food vouchers, which enables visiting case workers to fill their clients' pantries with needed food.

2009 Project Bread sponsors a study by the Harvard School of Public Health showing that low-income children will eat healthy food, including vegetables, whole-grain breads, and low-fat white milk, when it is prepared well and tastes good.
2009 Project Bread and the Massachusetts Department of Transitional Assistance wins a highly competitive grant from the U.S. Department of Agriculture to address hunger and food insecurity in the Latino community, particularly among low-income workers and the recently unemployed. The resulting Latino Hunger Prevention Project is located in the cities of Chelsea and Worcester; its goal is to increase SNAP/food stamp participation among Latinos.
2009 Project Bread develops, in partnership with UMass Memorial Health Care and the Office of Congressman James McGovern, the first hospital handbook, called Hunger in the Community: Ways Hospitals Can Help, to promote awareness of hunger's impact on a low-income person's medical care; the handbook suggests various ways that hospitals can prevent hunger and is sent to all hospitals in the state by the Massachusetts Hospital Association as well as to all members of Congress by the Office of Congressman McGovern.
2009 In response to the economic downturn, the FoodSource Hotline receives more than 49,000 calls from hungry people in Massachusetts.
2010 Project Bread expands the successful Chefs in Schools Initiative to other low-income school districts in Lawrence and Salem, provide healthy recipes and training for kitchen staff.
Next

2013 The 45th Walk for Hunger is scheduled for Sunday, May 5.