A Conversation with Ellen

In the fall of 2010, the Communications team sat down with Ellen Parker to capture some of the values she brings to Project Bread's work.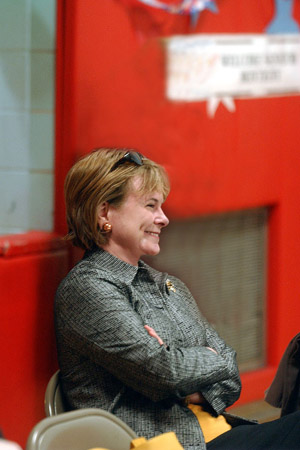 Q: How would you describe Project Bread's role?
Ellen Parker: Simply put, Project Bread works to provide access to healthy food to all low-income people in need. As the state's leading antihunger organization, we are dedicated to ending hunger in the Commonwealth and bringing innovative ideas to the nation.
Q: What are some of the major goals of your organization?
Ellen Parker: Our chief concern is helping individuals and families gain access to healthy food — note that I said "healthy." And we'd prefer to make it available as a normal part of their everyday life. We steadfastly support emergency food programs to ensure that there is always a place for a hungry person to turn when there's a crisis.

At the same time, we've worked hard to partner with community organizations, such as schools, summer programs, community health centers, hospitals, and elder home-care organizations, among others, that can provide healthy food to low-income people. By providing "food" I mean actual meals, as in the case of school breakfast and lunch, or by helping patients access to SNAP/food stamp benefits or other federally-funded food programs. Our ultimate goal is to bring more organizations into our tent — we can't do it alone — and to provide them with the means for helping us end hunger in Massachusetts.

Q: How does Project Bread differ from other antihunger organizations?
Ellen Parker: Well, our scope is different. We're a statewide antihunger organization, others are not. But what really sets us apart is innovation, innovation, innovation. We think deeply about the impact of our ideas on the lives of those in need. Everything we do is thought through from the perspective of how it feels to be a low-income person receiving help. Are they trading their dignity for a bag of food? Is it a good memory for a child to have?
Q: Were you ever hungry as a child?
Ellen Parker: We were not wealthy but, no, I cannot say I was.
Q: How did you develop a sensitivity for those who are?
Ellen Parker: It evolved from my experiences at Project Bread. Let me explain . . .
In 1996, when I first came to Project Bread, our primary mission was one of raising and distributing funds for emergency food programs. As an umbrella organization, we worked first to support a few emergency food programs, then scores of programs, then hundreds of soup kitchens, food pantries, food banks, and food salvage programs across the state. We loved our work: we believed in it.

Then in 1998, my staff and I underwent a transforming experience.


We traveled across the state with a group of physicians to investigate firsthand the experiences that hungry children and families endured. We spoke directly with people who had nothing and learned everything.

We called this our Physicians Task Force because it was modeled on a similar project led by Robert Kennedy in the late 1960s. Congressman Joseph P. Kennedy III asked us to lead the project to mark the 25th anniversary of his father's death. With our team of doctors, political leaders, and academics we visited schools, daycare centers, and health centers; we held town meetings and visited families in their homes.

For me, the experience was both radicalizing and humbling. And it fundamentally changed the way I thought about hunger relief. If it is true, as Frances Fox Piven once said "to be poor is to be invisible," then it is also true that to be poor is to be silent — to be talked about but rarely talked with.

The single most powerful insight we had from these conversations was just how shaming an experience it was to ask for food . . . and how truly desperate people have to be before they enter a soup kitchen. Families would go to great lengths to avoid standing in line for food or waiting for hours in a local welfare office to ask for help, including giving up meals themselves in order to feed their children, and filling up on water or ice chips to keep from feeling hungry.

Through these conversations, we began to see the unintended results of fundraising to alleviate hunger. Antihunger organizations attract donors by painting an affecting portrait of hungry people and demonstrating the severity of the problem by pointing to the ever-growing lines of hungry people. It's just not part of the equation to ask the recipient how it feels to stand in line, how it feels to self-identify as a hungry person, or what it means to silently take what is given without the option of choice.

Again and again, over the course of our Physicians Task Force Project, I asked myself how I would feel standing in line with my children, waiting for a bag of groceries — and what level of desperation would it take for me to be there. It made sense to me that the mothers I interviewed expressed their preference for anonymous or very discreet help. Nobody wants to be singled out as an example of bad luck or bad behavior as a condition of being fed.

In spite of all the limitations, we knew that our emergency food programs help thousands of people. But we decided to begin to try to make a difference in the way we were helping because we believed that hunger didn't have to be one of the sad facts of life in Massachusetts. We decided to find new ways to relieve it.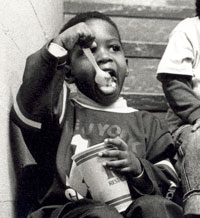 In 2000, we launched a legislative campaign to enact a seamless child nutrition safety net in Massachusetts. We brought together educators, pediatricians, legislators, and key business leaders in what we called the Massachusetts Child Hunger Initiative (MCHI). We co-sponsored research with Mass General Hospital and then used that data as a tool for legislative advocacy and public education. We designed, implemented, and evaluated a series of small demonstration projects – and communicated our findings. At every step, our circle of stakeholders grew larger. Our key achievement was public and legislative support for statewide systems that protect low-income children from hunger, including a universal school breakfast program. To put this in perspective, the number of children who are eligible to eat free or reduced-price school breakfast in 2009 was 163,000.

Through this legislative campaign, we developed a deeper understanding of what the process of change entails. When I think back to where we began, I see that we've moved the discussion from access to food in school to the question of the quality of food in school, and we did it before anti-obesity work became a national trend.

Q. How do you establish partnerships like the one with schools?

Ellen Parker: We backup our points with data-driven research and we argue that hunger is a public health problem.

Q: With all the talk about obesity, is hunger really a problem in Massachusetts?

Ellen Parker: Unfortunately, yes. Hunger and obesity are inextricably linked. The recent BMI study conducted in Massachusetts schools and reported in the Globe ["Alarms on youth obesity in Mass." 9.9.2010] makes it clear that the greatest obesity is in the lowest-income school districts, such as Lawrence. Why? Because processed, high-fat, high-sodium foods are cheap and filling.

Q: Is hunger increasing in Massachusetts?
Ellen Parker: Approximately 666,000 people in Massachusetts lack adequate food. The numbers have been trending upward for several years because the economic downturn and high unemployment make it difficult for many families and individuals to cover even their most basic needs. The callers to our Project Bread hotline tell us that food is the first thing to cut in their household budget.

Q: Don't we have enough food in Massachusetts?

Ellen Parker: Yes, we have enough food for everyone. The problem is that many people can't afford to buy healthy food. In Massachusetts today, 206,172 households or 8.3 percent are food insecure.

Q: What does "food insecure" mean?

Ellen Parker: "Food insecure" is simply the official term that applies to households that cannot afford to buy enough nutritious food for a healthy life.

Q: Aren't homeless people mainly those in need of emergency food?

Ellen Parker: That's a misperception. Less than 15 percent of emergency meals go to homeless adults. The sad fact is that most emergency food goes to working families with children. It also concerns us that less than 25 percent of those who are hungry access emergency food programs.

Q: What is Project Bread's commitment to emergency food programs?

Ellen Parker: Each year, Project Bread organizes The Walk for Hunger, which last year raised $3.8 million through the efforts of our committed Walkers, Volunteers, and donors. We use their Walk donations to feed hungry families at 400 emergency food programs in 130 communities throughout Massachusetts. This is a fundamental commitment of our organization's; however, we also seek new ways to feed people that makes that support seamless and natural. We look for community organizations that can help, like Boys and Girls Clubs, summer programs, that sort of thing.

Q: With so many emergency food programs in the state, why can't they solve the problem of hunger?

Ellen Parker: The need is far greater than the capacity of these emergency programs. The fact is that emergency food programs were never intended to make up for chronic food shortages in low-income households. They were meant to provide food for those in immediate crisis. Think about it, most of these programs are run by volunteers and have unique rules and hours. Any long-term solution has to include hunger prevention. Even if we had all the food in the world to give to emergency food programs, they could not respond to the demand. Asking them to solve a public health problem doesn't make sense.

Q. What do you mean that it's a public health problem?
Ellen Parker: Hunger results in poor health and impacts learning in children, so the consequences of hunger are severe — not only for the individuals who experience it, but for our society as a whole. Hunger affects the ability to learn, to work, and it eventually impacts our health care costs.

Q: Where does Project Bread get its information?

Ellen Parker: Project Bread uses material from the U.S. Department of Agriculture (USDA) and the U.S. Census Bureau, which conduct national surveys of food insecurity and food insecurity with hunger. We also fund studies, the most recent of which is a study conducted by the Harvard School of Public Health on whether low-income schoolchildren will eat healthy food. These studies provide a scientific set of data with in-depth analysis.

In addition, Project Bread has also referenced research conducted on childhood obesity and diabetes to demonstrate the links between obesity, diabetes, and hunger in low-income children.

Q: What is needed beyond The Walk for Hunger to combat hunger?

Ellen Parker: Emergency food programs, supported by the Walk, provide a lifesaving emergency response to those in crisis. However, federal nutrition programs like SNAP/food stamps, school meals, and summer food programs for children are currently under-enrolled in Massachusetts and offer a long-term stability as well as a way to increase access to fresh and healthy food for whole populations of food-insecure people. These programs bring in millions of dollars to the Commonwealth. We should be using them!