Who is Hungry?

The New Face of Hunger
While low-income families are at risk of hunger even during strong economic times, the current economy has put many thousands who were once secure in their jobs and homes suddenly at risk. The Status Report on Hunger in Massachusetts 2012 revealed that over 750,000 people in Massachusetts are struggling to put food on the table.

Vulnerable Populations
Some populations are at an even greater risk of hunger than others. The most vulnerable among us — children, elders, families, and immigrants — have been devastated by the impact of widespread unemployment, foreclosures, and skyrocketing health care costs.
Children: When children are hungry, they are more likely to get sick, miss school and struggle to learn. They can't catch up as easily after common childhood illnesses, and they can't grow to their full potential. Project Bread works to fully enroll low-income children in federal nutrition programs, such as School Breakfast and Lunch Programs and the Summer Food Service Program. Enrollment in these programs also brings substantial federal revenue to local economies. We are working to improve child nutrition at school and in summer programs through partnerships with the private sector, public health officials, nonprofits, pediatricians, educators, parents, and political and community leaders.
Related Solutions: Better Meals, Chefs in Schools, Summer Meals, meals4kids.org
Elders: When seniors are hungry, they are more likely to be hospitalized and to have chronic conditions such as heart disease and diabetes. They are often reluctant to ask for help, and instead are forced to choose between purchasing food and medicine.
Related Solutions: Home Health Care, Hospital Handbook
Families: Families that have access to healthy food and the knowledge and skills to prepare nutritious meals are ready to learn and work. Project Bread initiatives help identify families in need, and give them the tools to put a consistently healthy meal on the table every day.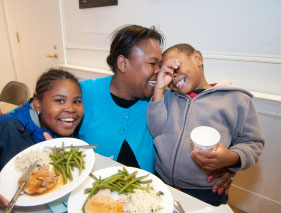 Related Solutions: Community Health Centers, SNAP Access
Immigrants: Latinos in low-income communities suffer high rates of food insecurity and hunger, and are underutilizing food resources such as SNAP/food stamps. In fact, only about half of those eligible participate in this important nutrition program.
Related Solutions: Strengthening Latino Families — Putting Healthy Food within Reach