Summer Food Service Program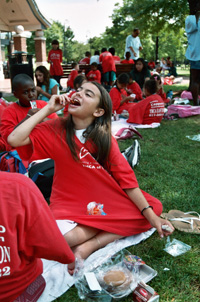 For thousands of children, the end of school means the end of book reports and spelling tests, and the end of school breakfast and lunch — their most reliable source of nutrition. The Summer Food Service Program (SFSP) is a federally funded program that provides free meals to children, ages 18 and under, when school is out for the summer. Meals are often provided along with educational and recreational activities.
During the school year, many families stretch their food budget by applying for free or reduced price school meals for their children. But during the summer, these families find it hard to pay for the addtional meal costs. Their children may be at risk for hunger and malnutrition, and are at a disadvantage when they return to school in September.
When children receive adequate nutrition in the summer months, they return to school in the fall healthy and ready to learn. But in Massachusetts, only 19.7 percent of the children who eat lunch during the school year eat a Summer Food Service Program meal when school is out (Food Research and Action Center, November, 2010).
There is much more work to do to make sure as many children as possible are eating nutritious meals in the summer!
Summer meals sites are located at schools, parks, pools, neighborhood centers, social service organizations, and other local sites throughout many cities and towns in Massachusetts. No registration or identification is needed in qualified areas. Most sites serve lunch, though some sites offer additional meals such as breakfast, snack, or dinner.
When children have a safe, fun place to eat well, the word gets out. By investing in SFSP, Project Bread makes it possible for low-income children to avoid hunger, eat more nutritiously, stay active, enjoy their summer, and return to school ready to learn.
The Benefits of Healthy Summer Meals
Many students receive free or reduced-price meals at school. However, when school is out during the summer months, families with tight budgets have difficulty absorbing the additional meal costs. As a result, many students experience hunger and malnutrition during the summer months and return to school at a disadvantage. Students who have access to nutritious meals throughout the summer return to school in the fall ready to learn, and the Summer Food Service Program helps make this possible.
How to Get Involved
There are many ways to get involved with the Summer Food Service Program in your community.
1. You can become a program sponsor or vendor and provide food to meal sites. Sponsors get reimbursed for their costs by the Massachusetts Department of Education.
2. You can help start a new meal site at a location where children spend time during the summer.
3. You can volunteer at a site and lead recreational activities such as sports or crafts with the children.
4. You can help get the word out about the meal locations to parents and students.
How Project Bread Can Help You
Grant money is available from Project Bread for capital expenses—including food preparation and distribution equipment, as well as books, games, arts and crafts materials, sports equipment, and other recreation supplies—to help new sponsors and sites get off the ground and attract children to the program.
» Learn more about the Summer Food Service Program and get free materials.